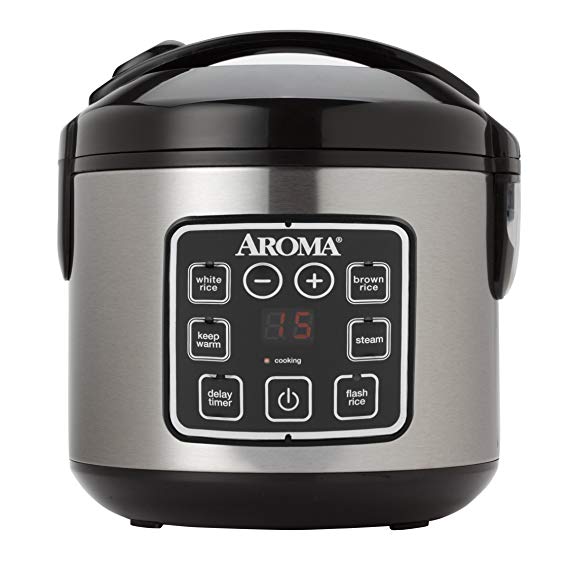 One of the most attention-grabbing components of this rice cooker is that you are getting an amazing, durable, and versatile rice cooker at a highly competitive price. In fact, it's way cheaper than many others on the market and is conveniently insured with a one-year warranty.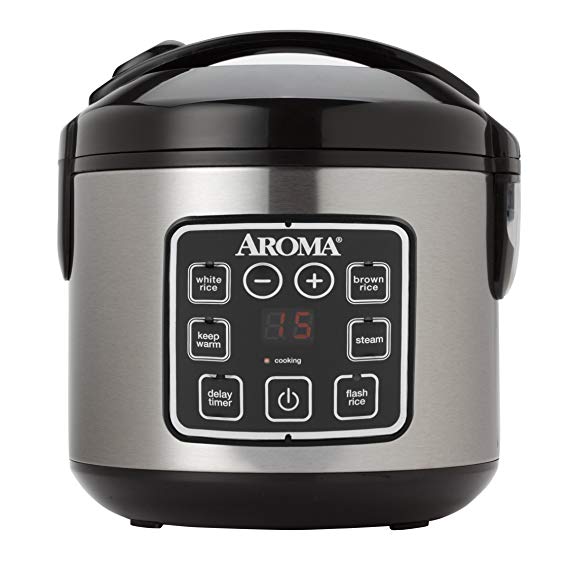 Capacity: The Aroma ARC-914SBD Digital Rice Cooker offers a massive capacity for feeding the masses by accommodating 8 cups of cooked rice with dimensions of 8.5 x 9.3 x 8.7 inches.
This means you can easily cook rice for the entire family in just one go. This rice cooker weighs just 4.2 pounds, leaving it quite manageable and portable. Even if you do not need to crank out 8 cups of rice, this cooker is also able to produce smaller portions, such as 4 cups.
Sophisticated Cookware: This rice cooker is quite simple and easy-to-use. Thanks to its digital controls, you can program according to steaming, browning, and basic white rice options. Moreover, you can use its automatic keep-warm function as well as set the delay timer for up to 15 hours. So whether you are on a tight schedule or just trying to keep one step ahead, this rice cooker can function according to your time constraints.
Additional Accessories: The Aroma ARC-914SBD comes with a steam tray, serving spatula, rice measuring cup, and a book of amazing rice recipes. Within the packaging, you'll also find the user's manual as well as additional coupons for various other rice cooker additions.
What we conclude about this model
Thousands of customers have purchased the Aroma ARC-914SBD, and nearly everyone has something good to say about this cooker. Most of them appreciated the appliance for its reduced cooking time, as this rice cooker is capable of cutting traditional rice cooking time by 50%!
On the other hand, if you compare this model to other models of the same brand, it does not offer a slow cook feature seen in others and also lacks STS (Saute-then-Simmer) technology too. Overall, the ARC-914SBD is a great model for homes.