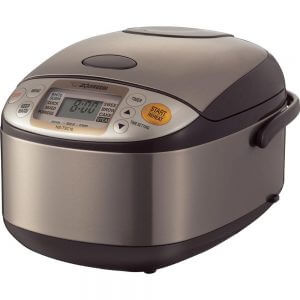 The NS-TSC10 is a digital masterpiece featuring Fuzzy Logic technology, and an LCD display complete with digital controls. These features allow it to be highly customizable, as you can program it according to your specific cooking requirements. In fact, it offers more menu settings than any other computerized rice cooker in the market, meaning you can extend your cooking escapades beyond simple rice and into other varieties such as white/mixed sushi, brown rice, cake, steam, porridge, sweet and quick cooking, etc.
Its stainless steel exterior means that it is also easy to clean, it comes with a 2 delay time settings that only a few models possess, and an automatic keep warm feature is handy should you have to leave the rice standing for a bit. This 1-liter rice cooker and warmer stands out from the rest as one of the best rice cookers available.
What we conclude about this model
In terms of capacity, the Zojirushi NS-TSC10 Micom Rice Cooker and Warmer has a dimension of 14 x 10.1 x 8.5 inches yet still looks quite compact. Its 1-liter space is more than enough for 5.5 cups of uncooked rice. So, you could feasibly serve 10 – 12 people at once. Modern-day features, such as micom fuzzy logic technology, double steamer, 2 delay timer settings and reheating cycles, make this appliance a must-have for large families.
The cooking pot features aluminum construction with a Teflon coating. That is the only downside of this model, considering there are other durable stainless steel models on the market. However, the Teflon coating does make it easy to clean, and additionally, this rice cooker is tough to beat with all its added features.