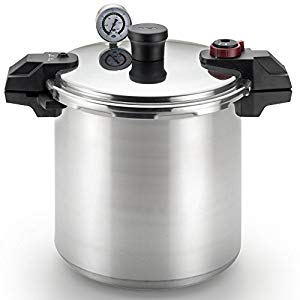 The T-Fal polished pressure canner comes with two canning racks allowing it to perform at a large capacity and making it capable of holding seven quart-size jars or 16 pint-size jars when double-stacked. The T-Fal Cooker is also UL certified due to its notable built-in safety measures.
Features
• Pressure control with three selections: 5PSI for vegetables and delicate foods, 10PSI for meat, and 15PSI for canning.
• Two canning racks to prevent food sticking and maximize canning space.
• The spring safety device ensures no pressurization happens apart from the lid first being locked.
• 5 point security system that includes: sure-locking lid, vent tube for pressure release, and a built-in pressure monitoring device on the handle makes it safe to use.
Pros
• The pressure gauge dial enables users to monitor the level of pressure.
• The sure-locking system ensures that the lid cannot open when the cooker is pressurized.
• Two food racks eliminate food sticking while increasing holding capacity.
• Its high-gauge aluminum make means it's durable and rust resistant.
Cons
• Some of its parts require periodic replacement.